Aggressive interest rate hikes by the Reserve Bank of New Zealand (RBNZ) continue to hammer the housing market, sellers lower prices across the country:
Nearly 5,000 listings have been slashed in price over the past three months as more homeowners become realistic about the value of their property in today's market…

Nearly five times as many real estate listings had their prices changed by an average of 3.95% in the three months ending May 31, 2022 compared to the same period last year.

Estate agents made changes to 15% of all residential listings on OneRoof in the same three-month period, with almost 50% of those corrections to Auckland properties, according to OneRoof analysis…

"A lot of the time what people do is they lower the price and they lower it below the market and they leave money on the table for their owners" [Wallace Stratton agent Stefan Powney said]…
Supplier price cuts correspond to average values ​​in New Zealand fell another 1.0% in Mayaccording to the Quoted Value (QV):
Mean values ​​in May were lower than in April in all but one…

The average value of all homes across the country was $1,030,221 in May, down $10,706 from April and $33,544 since January…

The largest declines since the start of this year were recorded in Auckland – $71,543, followed by the Wellington region – $64,849 and Palmerston North – $46,655 (see chart below for trends across all major centers since the beginning of the year).

"There is no doubt that prices are coming down, especially now that buyers are gaining the upper hand in negotiations," said QV managing director David Nagel.

"It's really just a question of how many more values ​​will go down before we find the new balance…

"With interest rates likely to climb further to combat inflationary pressures, as well as economic uncertainty with the Ukraine conflict and continued supply chain disruptions, we still have some way to go before the market hit rock bottom," Nagel said.
The RBNZ's 'way ahead' forecast predicts that the official cash rate (OCR) will reach 3.4% in December, then 3.7% in March and peak at 3.9% in June 2023. If true, that would almost double the OCR from its current level of 2.0%.
In turn, the RBNZ projected that average mortgage rates would climb to around 6% in 2023, which would be more than double their pandemic low: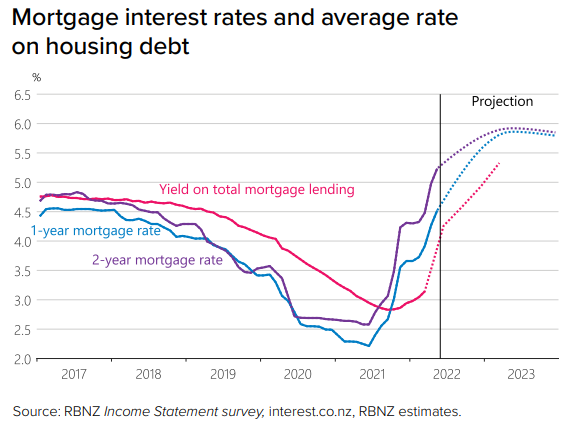 Kiwi borrowers who struggled to enter the housing market last year at low rates therefore face a nightmarish mortgage reset "shock" once their fixed loan terms expire.
A major house price correction seems "prepared" for New Zealand. Whether this turns into a real price crash will depend on whether the RBNZ follows through on its "way forward" guidance.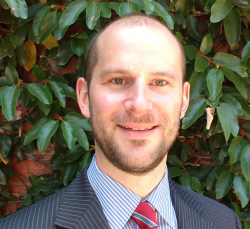 Latest articles from Unconventional Economist
(see everything)